I am frequently approached by frustrated radio amateurs who are looking to get into solar power and feel completely lost in all the options. To address the need, I've come up with a simple solution that really works and is priced right. I call it The Off Grid Ham 100 Watts for $300 Solar Energy Plant. If you need inexpensive solar power for amateur radio and/or prepping and don't know where to start, then you've landed on the right web page.
Almost all of the ready made kit systems are overpriced and under powered. I came up with this idea to help hams who have money to spend but not money to waste. In a future article, I will talk more about why I don't like kit systems such as this one or this one.
A few caveats.
Because it uses a pulse width modulation (PWM) controller, the Off Grid Ham 100 Watts for $300 Solar Energy Plant will top out around 80-85 watts maximum output from the solar panel. If you read my recent article about solar charge controllers, you already know that PWM controllers are less efficient than MPPT versions, but cost a lot less money. That is one of the compromises here. To bump up the output, you can add panels (or use a bigger single panel) as long as you do not exceed the 10 amp limit of the controller.
This do it yourself project will easily power your handy talkies, other electronics, a VHF/UHF mobile radio, a few lights at night, etc.; and with conservative use of the transmitter, run a higher powered radio. The goal of this solar energy plant is not to address every possible need, but to offer radio amateurs with a real alternative to overpriced, underperforming commercially made kits. If you have never worked with solar energy, this is a perfect starter system you can make yourself, learn on, and will not quickly outgrow.
What you need to know: The Off Grid Ham 100 Watts for $300 Solar Energy Plant will produce reliable power but is a no frills affair. I've carefully edited the parts list down to the bare minimum needed to meet the $300 price point while still giving you something genuinely useful. Add or change anything you want, but the more fluff you tack on, the farther the project gets from its original intent of being inexpensive and simple.
Parts List.
All these items were selected for their "bang for the buck" factor, low cost, and long term reliability.
Morningstar 10 amp PWM controller: $48.00 from Northern Arizona Wind & Sun.
Power-Sonic 26 amp-hour SLA battery: $59.00 from Battery Junction
Renogy 100 watt solar panel: $129.00 from Amazon
20 foot MC4 cable: $15.00 from Amazon
Assorted wire, connectors, hardware, taxes, shipping fees: $49.00
TOTAL= $300.00
MC4 Connectors.
The Renogy solar panel has MC4 connectors, which are an industry standard and designed for permanent outdoor use.
What you need to know: These connectors require a special tool to disconnect them once they are plugged in. Sometimes you can disconnect MC4's by hand, but it's difficult. I suggest spending an extra five bucks and getting the tool. Do not cut off, change, or alter the connectors on the panel.
Assembly.
Note: I'm including these detailed instructions for those who are inexperienced with renewable energy. If you are a "been there, done that" type, you can skip this section.
Assemble The Off Grid Ham 100 watts for $300 Solar Energy Plant in an area where the panel is not exposed to direct sunlight.
Cut the 20 foot MC4 cable in half so that you have two, ten foot cables: One with a male connector and one with a female. Crimp a spade lug on each bare end; you may also want to use Power Poles or other DC connectors for flexibility. Connect the cables and the battery to the solar controller on the terminals indicated, paying attention to polarity. Do not connect the cables to the panel yet.
Be sure to include a fuse on the positive wire as close to the battery as possible. The fuse does not need to be anything special…a simple in line 10 amp fuse holder from an auto parts store is fine. Also, it's easier and neater if you mount the controller on a board or other hard surface.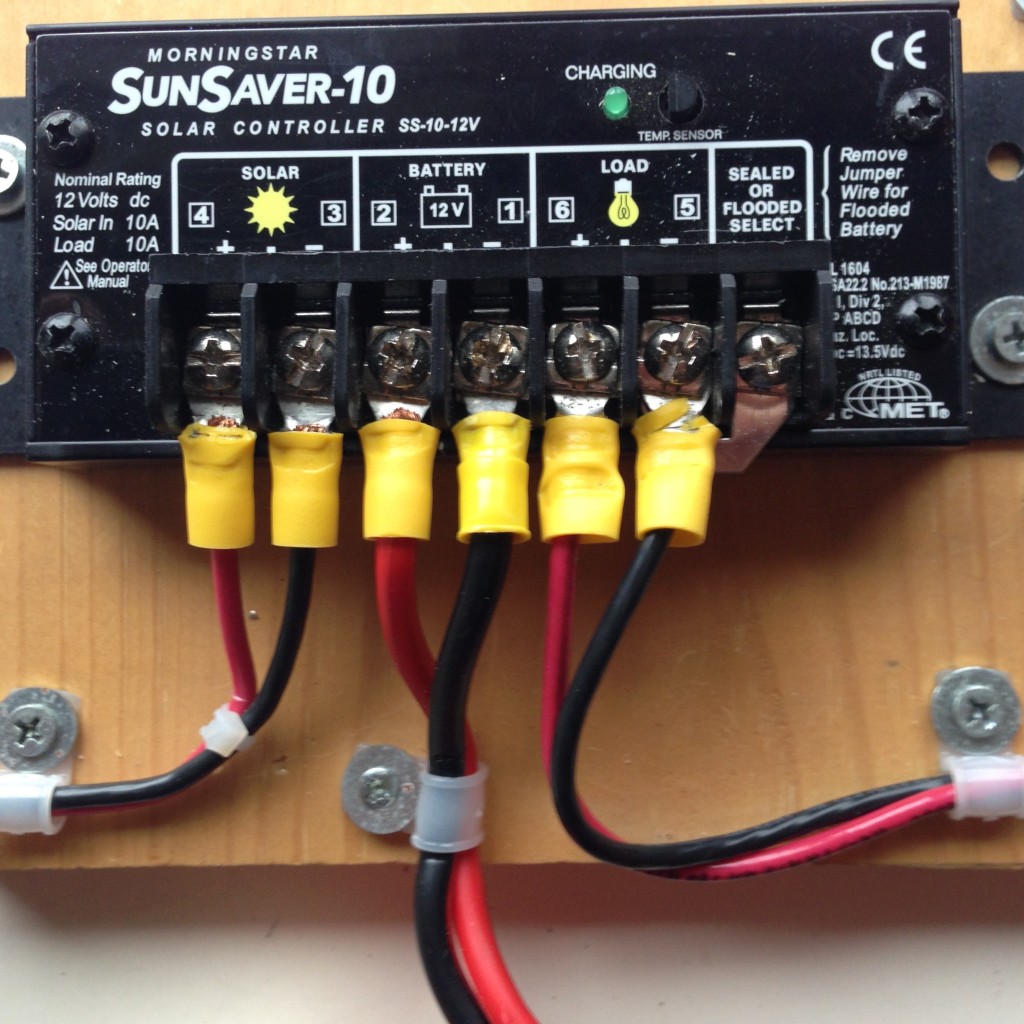 Check the voltage on the battery. It should read 12.45-12.95 volts.
The LOAD terminals connect to the device you are powering. Again, using Power Poles or 12 volt automotive breakaway plugs instead of hard wiring to the terminals makes things easier. You can also power your devices directly from the battery terminals but understand that doing so bypasses the automatic low voltage shut off built into the controller.
Plug the MC4 cables from the controller into the panel and set the panel in bright sunlight. Check the battery voltage again; you should now see over 13.00 volts depending on how sunny it is and the original charge state of the battery. Congratulations; your Off Grid Ham 100 Watts for $300 Solar Energy Plant is on line!
Using Your Solar.
Plug devices into the the 12 volt output as needed, keeping in mind that if the load drains the battery faster than the panel can fill it, you will eventually run the battery dead. It is very helpful to monitor your voltage and have real time awareness of the battery charge state.
In bright sun you can pull over 50 watts and the battery will not run down. That means the panel is meeting all your power needs with no help from the battery. On cloudy days or when you are demanding more power than the panel alone can produce, the battery will discharge to make up the difference.
The Renogy panel and the MC4 connectors are designed to be left outdoors all the time. You do not have to protect them from the weather.
I can take my solar energy setup out in the field and, after an entire day of ham radio operating, still come home with a fully charged battery. If you are using only handheld radios and/or running QRP, you should be able to operate almost indefinitely without ever having to be concerned about the availability of grid-based power or fuel for your gas generator.
Key Points–What You Need To Know.
The Off Grid Ham 100 Watts for $300 Solar Energy Plant provides a high "bang for the buck." You cannot do much better at this price point.
A PWM controller is used to keep the cost down. The tradeoff is less efficiency. The panel will have a maximum output of about 80-85 watts.
MC4 connectors are an industry standard for solar panels. They require a special tool to disconnect and are designed for continuous outdoor use.
You can run a full power (100 watt) HF radio with this setup, but only in strong sunlight and even then keep your duty cycle short so the battery has time to recover in between transmissions.
I understand that money is an issue for many; the Off Grid Ham 100 Watts for $300 Solar Energy Plant is very inexpensive by amateur radio standards and will give you a very high level of independence from commercial power or mechanical generators. It's an ideal mix of performance and economy that should serve you well for many years.
Disclaimer: I do not sell anything. I do not have a pecuniary interest in the products mentioned in this article nor am I related to anyone who does. The items specified were purchased through normal channels with the author's personal funds. The author did not receive any monetary compensation, gratuity, or merchandise in exchange for this article.